iContainers completes world's first online freight forwarding platform with WIN's UCT APIs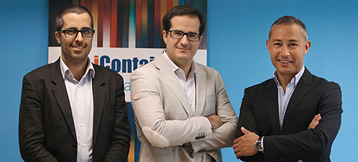 From left to right - Iván Tintoré, co-founder and executive president; Carlos Hernández, co-founder and US managing director and Jaime Jiménez, CEO
iContainers is the latest breed of freight forwarder, the world's first freight forwarder to ever provide all their services completely online, a one stop B2b and B2C platform for pickups, delivery, customs, international freight, insurance and door to door shipment options.
Before its conception in 2008, Ivan Tintore and Carlos Hernandez observed that it took up to 3-4 days for customers and agents to organize a shipment, which required efforts of at least ten calls or interactions being made but most importantly, these ten calls concerned only shipment planning and hadn't included calls regarding shipment tracking.
With the technology available today, Ivan and Carlos believed that processes and transparency can be made to be much more simpler, more efficient and reduce the amount of calls being made.
Thus, the world's first freight forwarder to provide all their services online, iContainers, was born and one of their first missions was set on a finding the optimum tool to track their shipments.
They found WIN's Universal Tracking APIs which would allow them to get container tracking statuses from carriers directly into their system
"With WIN's UCT APIs, we are able to enjoy real-time container traceability and data sent directly into our system, which has created an opportunity for us to cut costs on operations," said Jaime Jimenez, CEO of iContainers
He adds, "We would definitely recommend WIN's Universal Container Tracking APIs as a powerful tool that centralized our tracking from several different carriers into our very own software."
For more information, contact service@winwebconnect.com.